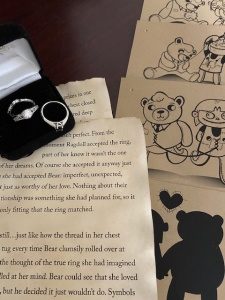 "One day Bear found himself laying on the bedroom floor.
His chest was leaking cotton where a seam had torn.
He saw a passing pretty rag doll and he said,
'My dear, I've come undone. Have you a needle and thread?'
She smiled and knelt beside him and said,
'I'll do what I can.
You'll feel a nick, but I'll make it quick.'
And she mended him.
At last she said, 'I think I finished. Open your eyes!'
He looked down at his scar and jumped up in surprise.
A thread connected their two chests, seam to seam.
'I must admit,' she shrugged, 'I didn't have any string'.
She looked at him, worried, and said, 'I hope you can see…
You looked so bad, all that I had to fix you was a piece of me."
This, a portion of the song Marion wrote for Nicki as a proposal, is only the beginning of this couple's incredibly special love story. (You can hear their entire song by clicking here.)
Marion and Nicki got together on Leap Day, eight years ago, and married the following Leap Year. Nicki had been dreaming of a particular ring as the two planned their engagement, but she never knew the words to describe what it looked like or find out what the style was called. Eventually, she gave up on finding what she believed to be a rare type of setting. Marion worked with a jeweler to design a ring the best he could based on what she had described. The end result was a simple ring they both found to be beautiful, and time moved on.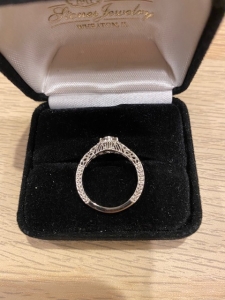 Then one day, six years later, while Nicki was working, a customer came in with a ring almost exactly like what Nicki had pictured. Nicki asked if she could take a photo of the ring, then brought the photo Stones Jewelry.  Molly identified it as a filigree setting: a delicate, artistic design in which fine, soft threads of precious metal are pulled or twisted into a design and then soldered onto the band.
When Nicki later mentioned this to Marion, he responded, "Oh, interesting. I wish we knew that word before," and that seemed to be the end of it. However, the Bear & the Rag Doll were about to have their sequel.
Eight years after they were married, Nicki woke up on her birthday to Marion handing her a red piece of string. The string is connected to three pieces of parchment, telling the next chapters of the story: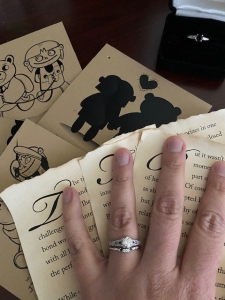 "Bear couldn't imagine a ring more suited for his lover. When the time was right, he presented the ring to Rag Doll. She smiled, wiped a tear and kissed him deeply.
But it wasn't perfect. It wasn't the one of her dreams. She accepted it anyway, just as she accepted Bear: imperfect, unexpected, but just as worthy of her love. Nothing about their relationship was something she planned for, so it was only fitting that the ring matched.
Bear could see that she loved her ring, but he decided that it just wouldn't do. Symbols of love are not the love itself, and this symbol needed fixing. As she laid sleeping, Bear untied the thread that bound them one final time…"
Then, at the end of string she was pulling, there was a cloth bundle containing a Stones Jewelry Box. Inside the box was a tiny scroll that said the Rag Doll's birthday / anniversary gift was that she could design the perfect ring.
Marion had prearranged with Molly for Stones Jewelry to help design the filigree ring to reset the engagement ring he got for Nicki. "This was such an easy process: I brought in pictures of a few rings to highlight the qualities I wanted in my own ring and Molly sent in the design. Within weeks we had the ring. I had also wanted to preserve the original setting, so they put black onyx into that one, creating another beautiful ring."
And without even trying, it turned out the new engagement ring fit perfectly against the original wedding band.
We at Stones Jewelry just love this story, as it seems to have it all: a song, a story, and two very deserving people living happily ever after at the end. The rings Nicki and Marion designed are just gorgeous, and we just love being able to help make the fairy tale ending come true.
If you are interested in selecting or designing an engagement ring for your loved one, Stones Jewelry has a large selection of both traditional and non-traditional engagement rings: diamonds, colored stones and a large variety of settings. Give us a call or stop by today — we'd love to help you find the perfect piece.