The Stones Jewelry team invites you to experience a world of color! Straight from a fifth-generation cutting house in Idar-Oberstein, Germany, a collection of colored gemstones rivaling those in museums around the world is on its way to historic Downtown Wheaton.
A true demonstration of the entire spectrum of colored stones — displaying so much more than emeralds, diamonds and rubies – our Colored Gem Show is always a highly-anticipated event for both gemstone and fine-jewelry enthusiasts. Those who attend the show annually know the breadth and beauty of the collections we present and can attest to what an awe-inspiring experience it is. And this year, as is tradition, there will be drawings to win fine colored gemstone pieces — soon to be announced! So make sure you enter while you're here!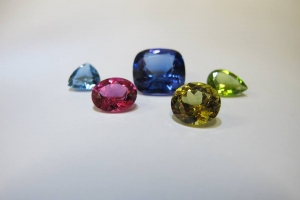 Our relationship with Paul Otto and his family's cutting house (which is the oldest business in Idar-Oberstein), is a special one. Before passing on ownership of Stones Jewelry to Bradley Huiner, David Petti traveled to Germany to meet the staff of the cutting house in person: including the polisher, gem cutter and the rest of the team and family. Deeply grateful for the hospitality received, we are always touched to see that this 25-year relationship means just as much to this German family as it does the staff at Stones.
So, start your countdown clocks now! We're just a couple weeks away from what promises to be an exciting event. Gemstones like this don't come along everyday – Make sure you mark your calendars, and we'll look forward to seeing you then!