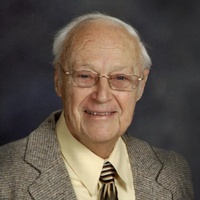 Jason Johnson, age 91, former co-owner of Stones Jewelry and beloved member of our family, died peacefully at home on May 19, 2018. He was a wonderful husband, father, grandfather and friend who will be missed by all who knew him.
Jason and his wife Marilyn purchased Stones Jewelry from Emil Shebik in 1974, and Jason worked beside his wife here at the store until the two passed it on to their son-in-law, Dave Petti, in 1982.
The couple had a great love for jewelry, having started Jason Johnson Jewelers in Madison, Wisconsin before moving to Wheaton. This love was passed down through the family: Jason's daughter, Marsha Fredrickson, designs pieces for Stones Jewelry, and Jason's youngest granddaughter, Hillary Fredrickson, began her career at the store. Currently, Brad Huiner, husband to Jason's granddaughter, Lea, owns and operates the store.
Jason was born March 4, 1927 in Duluth, MN. He served in the U.S. Army during WWII. He graduated from North Park College in Chicago where he met Marilyn, his wife of 64 years. They raised their family and started their first business, Jason Johnson Jewelers, in Madison, WI. Jason was the first chairman of Buckeye Evangelical Free Church (now known as Door Creek).
Jason was also deeply involved in camp ministry; he served as Chairman of the Board for both Camp Willabay and Timber-Lee Christian Center in Wisconsin.
The adventurous spirit in Jason led him to enjoy hunting, fishing, skiing, snowmobiling, flying a private plane – even skydiving at the age of 80.
In 1974 the Johnsons moved to Wheaton, IL and purchased Stones Jewelry. Upon retirement they split their time between farming a 17-acre vineyard in Sawyer, MI and fishing in Key West. They returned to the Wheaton area later in life to be closer to their family. No matter where they lived, Marilyn and Jason demonstrated their gift of hospitality.
Jason will always be remembered for his marvelous sense of humor. But as he often said, "I only tease the ones I love!"
He is survived by his daughters, O'Ann (Jim) Steere, Marsha (Gene) Fredrickson, Kim Petti, foster daughter Judy (Nick) Wyskoarko; 9 grandchildren and 12 great-grandchildren. His loving wife preceded him in death 3 years ago.
A service honoring Jason will be held on Wednesday, May 23 at 7:00 PM at Windsor Park, 124 Windsor Park Drive in Carol Stream. Internment will be private.
Memorial gifts may be directed to Timber-Lee Christian Center, N8705 Scout Rd, East Troy, WI 53120
Friends and family are invited to sign a guest book at www.hultgrenfh.com