Year after year, you've given Dad the clichéd, lackluster necktie. Maybe sometimes you add a polo shirt to the box. Or perhaps you've unenthusiastically wrapped up some golf equipment, a new fishing lure or a new screwdriver?
Dad's hard to shop for. But this Father's Day, don't you want give him a memorable, truly meaningful gift?
Well, after 100 years in the business, we certainly know what dads like and what makes a gift for dad truly special. After all, when's the last time you gave dad a gift that stands to become a family heirloom, passed down in good-as-new condition generation after generation?
This Father's Day, we know that your dad wants a Hamilton watch. And we're about to provide you with three excellent reasons why:
Reason #1: The Aviation: Khaki Flight Timer
Hamilton has long taken pride in both their position as a supplier to the U.S. armed forces and their watches' high-altitude timekeeping precision. And with Hamilton's Aviation timepiece, digital and analog displays quite literally reach new heights.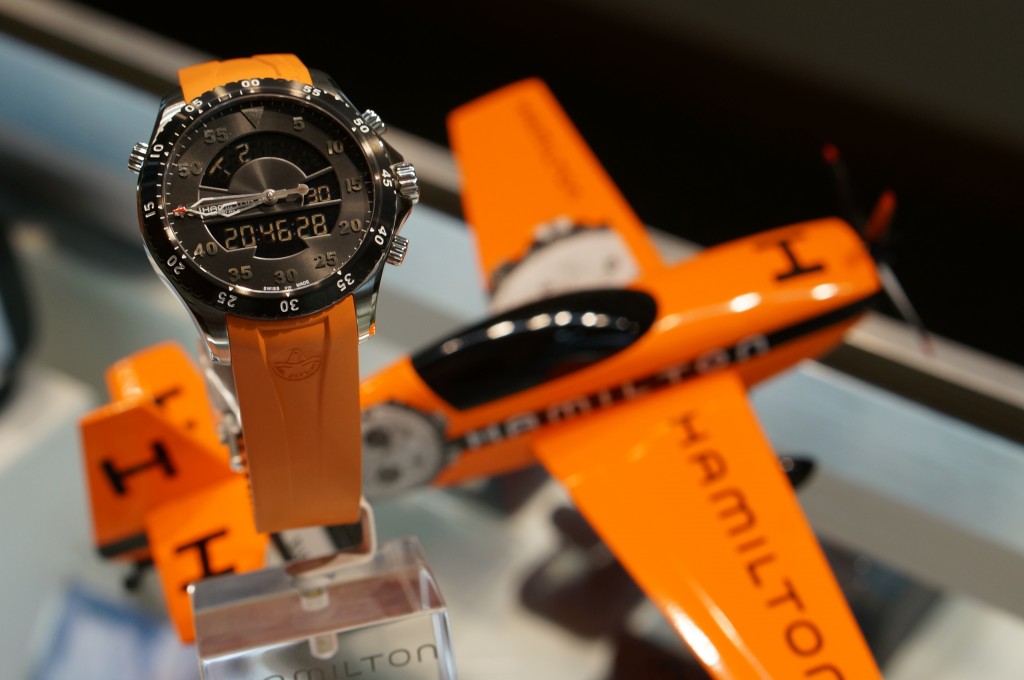 The Aviation quartz-digital, shock-resistant watch incorporates several useful features for pilots into its functionality, including some that have never been seen before in a production timepiece. For example, its highly accurate flight timer has a dedicated pilot´s logbook, which is able to record the details of up to 20 flights.
The Aviation has additional practical and dynamic functions, as well. The timepiece keeps two digital time zones, UTC time, has an alarm, a chronograph, countdown capability, an ISA temperature display and a perpetual calendar.
While all Hamilton watches are made in Switzerland, this one includes the added benefit of having been co-designed with the Swiss Air Zermitt, an elite corps of rescue helicopter pilots that are in charge of the safety and well-being of skiers and hikers in the Swiss Alps and mountains of Nepal. The watch even bears this famous helicopter service's logo.
With it's versatility and appeal, one need not be a pilot to thoroughly enjoy wearing this on their wrist. Whether on land or in the clouds, your dad's sure to love this watch.
Reason #2: The Ventura: A Shape Fit for The King
Watches with unusual shapes have been featured in the Hamilton collection for decades. Today's handsome Ventura is a faithful tribute to the 1957 original, which made watch-making history for several reasons, including its role as the world's first electrical, battery powered watch.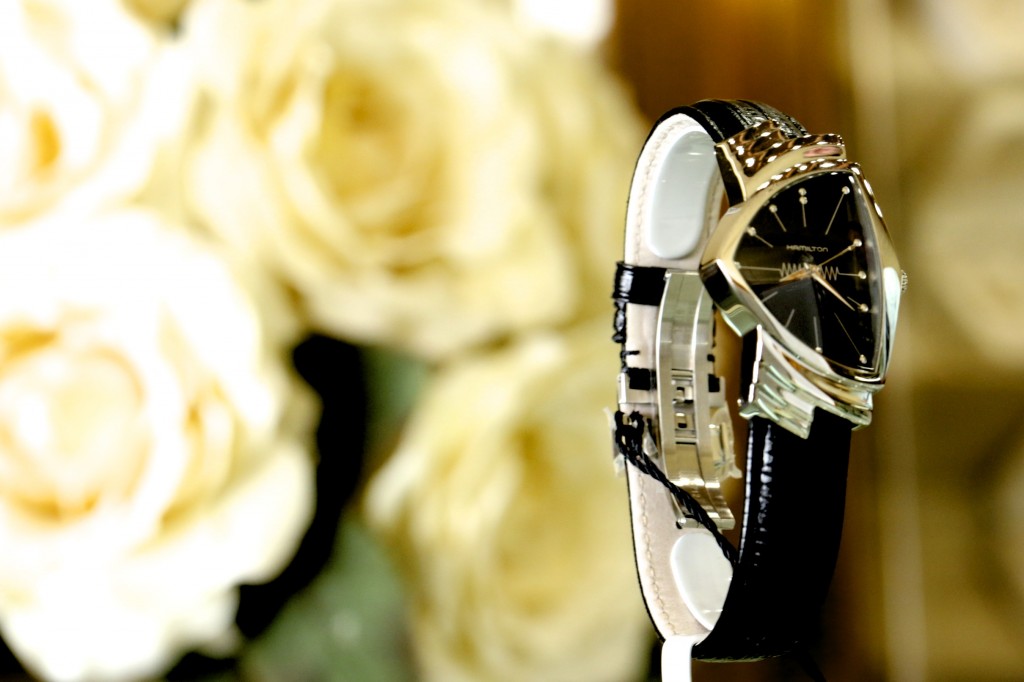 The case of the new model is designed to be reminiscent that of its ancestors, as is the dial.
And what better history can a watch have than to have been designed specifically for The King of Rock 'N Roll, himself!? Acting as more than a simple prop, Elvis's Hamilton can be seen gracing his wrist in Blue Hawaii, giving his GI character an aura of youthfulness and crisp sense of style.
Reason #3: The Intra-Matic: Classic Elegance
You can't go wrong with a classic dress watch from the Hamilton collection, and the Intra-Matic is among the finest.
An automatic watch with a genuine leather band, the eye-catching open back of the Intra-Matic allows observation of the timepiece in motion. Plus, the Intra-Matic's stainless steel construction ensures that it will quite literally stand the test of time.
Elegant. Classic. Dad will absolutely adore this true statement of a timepiece.
So, what are you waiting for?
We have these and many other fine Hamilton timepieces all available and ready-to-wrap. For more information on these affordable, classic mechanical watches, feel free to pay us a visit. We look forward to helping you pick something for Dad that will not only light up his face now, but will become a true family treasure.