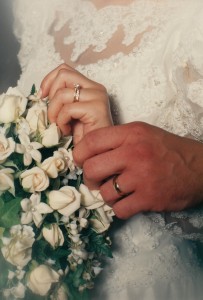 When a long-time customer of Stones Jewelry, Mary, lost her mother last year, we were inspired to find a unique and deeply meaningful way to celebrate her mother's life. Mary has meant a lot to us, become a friend to us all, and her story provided us with a perfect opportunity to create.
"It was really hard for me when my mom passed," Mary explains. "But it turns out that my mother left behind a lot of jewelry. She was a very petite woman and… let's just say… I am not," she laughs. " I couldn't just let the pieces sit in a drawer — I strongly believe that precious things like this just aren't celebrated if they're tucked away never to see the light of day. So I came to Stones Jewelry with my story and hope that they could advise me on what to do."
"We see this all the time," states our own Hillary Fredrickson. "People inherit or are given really valuable, meaningful jewelry gifts such as these, but they aren't sure what to do with them, especially when they don't fit. What people don't often realize is that stones can be remounted — entirely new designs and creations can be made from jewelry that you no longer want as-is. Not only do the new pieces carry a legacy, but they're a lot of fun to design, as well. We suggest this for anyone wondering what to do with old jewelry or jewelry they can't wear."

Mary's mom had a wedding band filled with diamond baguettes. Ironically, Mary and her husband were celebrating their 25th year of marriage — a perfect time to upgrade her own wedding band or engagement ring. "Stones Jewelry did an amazing thing. They took the baguettes from my mom's ring, and combined them with the stones from my original engagement ring. The results are breathtaking — people literally stop me in the street all the time with 'wows!' and questions about where I got the ring. And when they hear it's a coming together of my original ring and my mom's, it seems almost as touching to them as it is to me."
Should you be interested in having inherited jewelry appraised or remounted, feel free to stop in, call or contact us online. We'd be happy to help you find the perfect design to make sure that jewelry moves from the back of the drawer into the light for good.