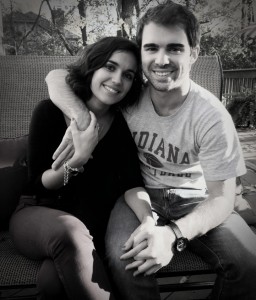 Just over a year ago, a beautiful girl named Noelia crossed the Pacific to follow her dream of becoming a physical therapist. Arriving in America to take on an internship at a physical therapy practice, she was picked up and whisked off to the home of the Curley family — a mere stop to have dinner and "meet a nice American family" on the way to her eventual residence.
The same day, Mike Curley had decided to stop by his parents house on a whim: "Probably to steal K-Cups" he jokes. Noelia was headed with his parents and Godmother to Lou Malnati's, and he couldn't down the offer of spending time with "pizza and a pretty girl".
It wasn't long until the two weathered their first date together — a 39 degree Notre Dame football game in the pouring rain. Despite the cold and wet, sparks flew, and the two kept in touch via Skype when Noelia had to go back to Spain. "She came back and did the Chicago Architecture Tour with me… I flew over there for Spring Break. We did what we could to see each other. Long distance could be hard at times, but I'm a teacher, and I knew the summer would be here soon enough."
Mike wasn't sure he'd be proposing to Noelia during his summertime trip, but he knew he'd found the girl for him. "I didn't have a laundry list of what I wanted in an engagement ring — I knew I just wanted to keep it simple and elegant. And Brad at Stones Jewelry was SO helpful. As soon as I saw the 4-prong diamond solitaire he suggested… it's not something I can describe. Just like when I first saw Noelia, I just knew it was the one."
Mike and Noelia would spend their summer traveling to Rome, Valencia and Budapest. Finally at home with her family in Galicia, Spain, Mike knew he would propose, and knew he wanted to do this with some time left to spend with her. "5 days before it was time to go home, we were at the beach with her family. Her mom, dad, sisters, uncle, nephews and best friend all just happened to be there. The 'Curl' sound of my last name is unnatural on their tongues — it's not really a syllable they use in Spanish, and we were all joking about how they couldn't say my last name. Seemed like the perfect time — I told her she better get used to it, and I popped the question."
Noelia's family loves Mike, but are sad to see their daughter move overseas. During her last trip here, the two were back in to have the ring sized to her tiny finger. "The people at Stones, everyone, they're just so nice. We were back in twice, and they were patient, kind and just really provided the perfect ring."
We wish BIG congratulations to the happy couple, and can't wait to see the gorgeous pair in wedding photos.
And if you'd like to be featured in our "Where in the World Has Stones Jewelry Been" series, we'd love to hear from you! We're always amazed to see where our jewelry travels when it leaves our Downtown Wheaton store, and we'd love you to share pictures or stories with us. You can visit us at our page on Facebook, stop in or contact us via email to tell us where you've gone with your Stones Jewelry.
Happy travels, all! We can't wait to hear from you.