You read about the beautiful surprise proposal. You knew the wedding day had finally arrived. And now, well worth the wait, the photos from our bride and groom's special day are finally here! You can click on each of them, below, to see them in a larger format.
Congratulations, Hillary and Chaz. We are so excited for the both of you.
The Rings: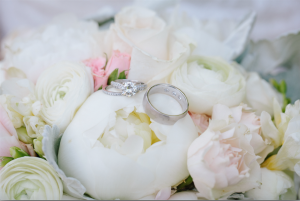 Surrounded by settings everyday, Hillary knew the exact engagement ring she wanted and her uncle, Stones Jewelry owner Dave Petti, would help Chaz to make the ring extra special. Chaz worked with Hillary's mother and aunts to make sure a "family stone" was placed within the setting: a gorgeous diamond that belonged to Hillary's grandmother, Marilyn Johnson, a one-time co-owner of Stones Jewelry who recently passed on. The results: a stunning, one-of-a-kind ring rich in meaning.
Not wanting to leave Chaz out, three diamonds from the promise ring Hillary's father gave her at age 13 were inserted into his wedding band. A beautiful gesture, you can see how these stones shine.
The Entrance: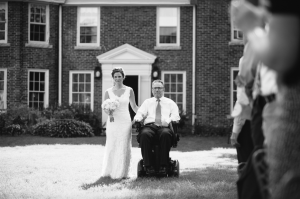 A gorgeous bride and her father make their way down the aisle. Later, in an incredibly moving speech, Hillary's father shared the family's story of a rare war knife from Nepal, impressively large and incredibly sharp, given to him by a man he mentored. He'd used the knife to threaten many of Hillary's past boyfriends should harm come to her (with a wink, we're sure). Symbolic and touching, Hillary's father gifted the knife to Chaz, demonstrating the trust he has for his new son-in-law and the passing on of the responsibility of Hillary's protection. There wasn't a dry eye in the house.
The Ceremony: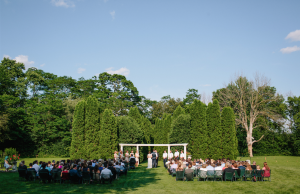 In the midst of an unusually rainy summer, the sun shone and the clouds parted to create this beautiful scene at Oscar Swan Inn in Geneva, IL. Friends and family from all over the world (some all the way from New Zealand!) were there to celebrate, kept entertained by giant buckets of popcorn and even larger lawn games after the ceremony. The couple even crafted a giant Yahtzee game and enormous Scrabble board together, demonstrating the creativity and craftiness they so appreciate in one another.
The Vows: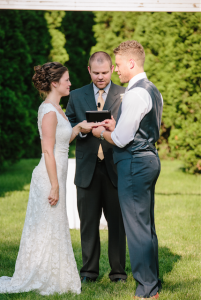 Their trusted pastor officiating, Hillary and Chaz exchange their vows. Talented musicians contribute to the ceremony, and Hillary's nephew memorized and recited scripture just for the occasion. The two couldn't have looked more excited and happy.
Husband and Wife: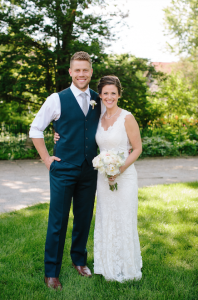 And finally, the happy couple.
Again, we congratulate Hillary and Chaz on their union. Their wedding was so special, and we were so glad to be a part of it.
If you'd like to see Hillary's rings in person, she'll be happy to show you if you stop in. And should you be interested in a custom-designed ring of your own, Hillary, or any of our knowledgable staff, will be happy to discuss ideas and options with you to make a piece truly unique to you. We look forward to seeing you soon!