Last fall, an exotic journey our newlywed customers Anne and Ellis were taking, planning to stay in both a cave and a "luxury treehouse" in the jungle of Belize, inspired a new series for us: "Where in the World Has Stones Jewelry Been?". We wanted to know just where your jewelry ends up after it leaves our family's store. If you'd like to read Anne and Ellis's story, just click here.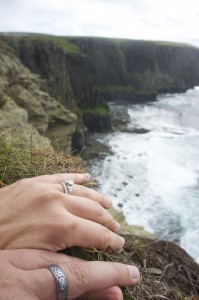 Joining in the travel fun, customers Blake and Elizabeth have just sent us pictures of their Stones Jewelry wedding bands from all the way over in Europe. The two are in Ireland celebrating their one-year anniversary. They've already been several beautiful places, (like the Cliffs of Mohr, pictured here), and plan many more before their return.
Their story is one of destiny, completely centered around Ireland. For us, it's a story of Blake's Celtic wedding band, and how it finally makes it home.
As a child, Blake's father worked as a pilot. The family ended up stationed in Shannon, Ireland — Blake's father flying routes out of their airport, and Blake attending Kindergarten overseas.
The family moved back to the States, Wheaton and then to Batavia, yet they missed the beautiful cliffs of Ireland. Blake would travel back for short spurts with his parents and brother, then tour Ireland with a friend in adulthood, never able to let go of his love for the land.
As all this was taking place, Elizabeth was growing up in Wheaton, then in Batavia — and while she and Blake were in the same place at the same time, they only crossed paths once, when Elizabeth voted for Blake for Class President. "It was like something out of a teenage movie," she laughs. "He was eager to take back the school from the 'mean girls' and the 'even meaner teachers', and the whole gymnasium exploded with cheering."
Elizabeth never left the country or travelled much at all as a child, which she feels only fueled her desire to see the world. She reached her 30's unsettled and restless, and decided there was no time like the present to go out on her own. Bravely, she planned a solo-trip for Ireland and Italy and took off with her camera.
"I remember seeing pictures of Elizabeth's first trip to Ireland on Facebook," Blake recalls. "I was just about to contact her when I realized she'd started dating someone else, so I considered it a missed opportunity."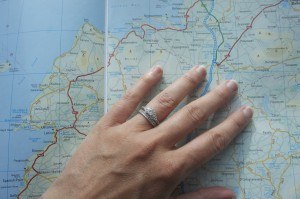 "That relationship didn't lead to love," Elizabeth picks up. "But I had fallen in love with the beauty of Ireland. So a couple years later I was back again, and that's when I heard from Blake through social media. He said that my pictures had caught his eye, and that I was 'the highlight of his newsfeed', such modern romance" she laughs again. "We met up when I returned to talk about what I'd seen, and the rest is history. We were married at the end of August last year."
"And I still really like the ring," Blake said. "It was so hard to find something unique — anything more than a plain band, or something too ornate or fancy-looking for me. When Hillary showed me the Celtic pattern on the ring at Stones, it was perfect. Comfortable, really durable — after a year knocking it around there's no scratches at all. And the pattern, of course, matches our story perfectly."
If you're looking for a wedding ring with a bit of a personal touch, stop by to see our collection. We can both special-order and design jewelry to fit exactly what you have in mind.
And if you're traveling anywhere across the country, or across the world, with your Stones Jewelry, we'd love to see your pictures. Post them to our Facebook wall, email them to us through the site, or bring them in! Yours could be the next story featured on our website.
We thank Elizabeth and Blake for sharing their story and for the fantastic photos. Happy anniversary, you two!