Love is in the air at Stones Jewelry — and we're not just referring to the energy coming off the wedding and engagement rings. This month not one, but TWO couples from the Stones Jewelry family are tying the knot, and we couldn't be more excited!
You may recall Thomas and Melissa's touching proposal story that we shared back in November. (If you missed it, you can click here to catch up!). Well, they were married the weekend of June 13th in an absolutely beautiful ceremony. Brad Huiner, Thomas's uncle and our future owner, was there in support. And, of course, we've got pictures to share…
We wish the two of them absolute happienss, and thank them for including us in their day.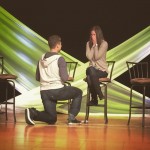 And now, this coming weekend, on June 27th, our own Hillary Fredrickson will be marrying Chaz Black in an intimate, outdoor ceremony. Chaz aced the proposal as well — the story and photos are shared here. And, since our whole team wants to see these two down the aisle, Stones Jewelry is closing early, at 3:30pm this Saturday. We'll send a reminder later this week.
Congratulations to our happy couples! And stay tuned for pictures from Hillary and Chaz's wedding, including the gorgeous engagement ring Chaz had made from Hillary's late grandmother's diamond (one of our much-loved and missed previous owners of Stones Jewelry). We can't wait to celebrate this weekend!