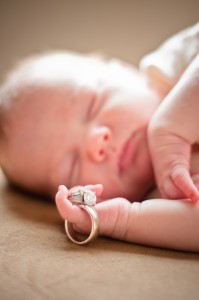 It's been said that "a happy family is but an earlier heaven". With the announcement of two new additions to our own family, we couldn't agree more!
When it comes to sharing the news about both an engagement and a birth within our Stones Jewelry circle, the excitement each brings makes it hard to decide where to start. Like most proud grandparents, however, our owner Dave Petti is instantly ready to share photos of his new grandson, Tanner. So that's where we'll begin.
Tanner Wellons was born to Ashley, Dave's daughter, and her husband Eric on May 4th of this year. As is tradition, Ashley and Eric had professional photos taken of Tanner, including this classic shot of the baby with his parents' wedding rings: symbols of the couple's love in the hand of the life that love created. Of course, given the family's business, this photo has an even deeper meaning attached to it. Will Tanner someday hold the keys to the family's store? Only time will tell…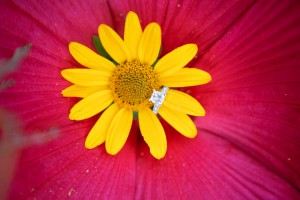 In addition to welcoming Tanner, we have one more announcement.
We recently introduced Brad Huiner, Dave's nephew and the next owner of Stones Jewelry. Well, Brad's nephew, Thomas, was just in the store purchasing an engagement ring!
Thomas chose a diamond Hillary and Dave picked out during their trip to Antwerp, Belgium, where they actually witnessed the stones being cut. We are so excited that such a special stone will stay within the family.
"I really wasn't expecting it to happen when it did," says Thomas's fiancé of the proposal. "We'd been boating all day up at Thomas's grandparents home. His whole family was there, and I was exhausted from the fun day with them, fresh from a shower and wrapped in a blanket ready to call it a day. Thomas insisted, however, that we head out on the boat ourselves. Once we were in the middle of the lake, he cracked open a bottle of champagne and began celebrating passing his 3rd round of CPA exams. He thanked me for standing by him, and I thought 'Oh, that's what this is about…'.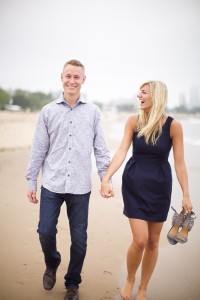 But before I knew it, there he was down on one knee, and I was just bawling with happiness. The ring was exquisite, and he shared how it'd journeyed overseas to end up with me. We returned to find the dock covered in candles, his family waiting to celebrate with us. As an added bonus, my parents popped out from behind them. It was just perfect!"
Thomas Huiner and Melissa Wright will be married June 13th of next year. The two promise to check back in to share about their wedding, planning a few creative and personalized details of their own.
So, our congratulations go out to Thomas and Melissa on their engagement, and to Ashley and Eric on their new, beautiful son. Our family is blessed to include both of them.
And if you are planning your own engagement, here's two testaments to just how special your engagement and wedding bands can be. Whether you're just beginning your search or have an idea of exactly what you want, we'd be happy to help you chose the perfect ring.