As they were in picking up their wedding bands, Anne and Ellis discussed an upcoming honeymoon that was slightly out of the ordinary. With plans to reside for a week in a luxury tree house, river tube through an underground cave, horseback ride through rainforest and repel into an ancient Mayan cave to spend the night: the list of activities sounded incredible and got us wondering… Just where in the world has Stones Jewelry traveled to? When pieces like Anne and Ellis's wedding bands have left the store with customers, where have they gone and what have they been a part of?
To find out, we created this new series: "Where in the World Has Stones Jewelry Been?". We're looking forward to hearing from you and sharing your exciting, romantic, funny or far away stories about where our jewelry has traveled, what it has endured and all the special moments its been a part of.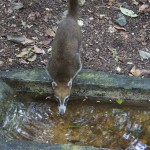 To begin, we followed up with Anne and Ellis, who were eager to tell stories about their adventures in Belize. Despite the intrigue they felt just reading the list of activities, the actual experience proved to be beyond their expectations. Both say that the tree house they stayed in has become their dream home (despite the over 150 stairs it took to reach it each time). Completely open to the elements and high above the jungle canopy, the couple spent a lot of time sitting on their balcony and admiring the monkeys, toucans and native coatimudi in the trees (pictured).
The overnight in the cave proved to be the trek of a lifetime. Carrying all of their camping supplies on their back, the two hiked over two hours through the jungle until they reached a cliff. Neither had repelled before, yet they found themselves balancing on rock and relying on cables to drop them over 250 feet into the black hole below. While she's glad she did it, Anne says she doesn't ever need to do this again.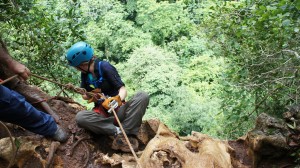 "Like the klutz that I am, I slipped and fell just over the top peak and ended up sitting indian-style over the edge of a cliff. Staring down, not being able to see the ground below me, sparked a fear in me I've never felt before. It's actually humorous now: we have all these photos our guide took of me smiling and looking like I'm having a grand old time… but the truth is that between every pose, I was grimacing, terrified and begging for my life."
Despite the occasional spider joining the party, camping in the cave proved to be awe-inspiring and peaceful: the two slept the night in hammocks without incident.
Anne's adventurous nature got us a photo of a tarantula sitting on a Stones Jewelry wedding band. Turns out Tarantulas are actually tired and sleep-walking during the day — they are nearly guaranteed not to bite if handled, then. However, Tarantulas at night can be a whole other story. This is not something we expect to happen when a ring leaves the store!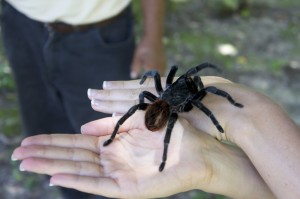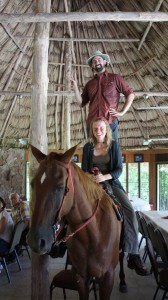 "We wore our rings through it all. Despite all the heavy activity gripping ropes and weathering the elements, the bands came out just like new. They're so incredibly special to us: Ellis was even able to get a Celtic design on his, symbolic of the very first vacation we took to Ireland. The rings flawlessly survived this jungle adventure and have many more travels to come."
Do you have an intriguing, funny, interesting or far-away story of a place your Stones Jewelry has been? We'd love to hear it!
Have a trip coming up? Snap a photo of your Stones Jewelry piece in a far-away place, and we'd love to see it!
If you're interested, your photos and stories may be shared on our blog or via our Facebook page. Feel free to Contact Us by web or bring your travel pics into the store. We can't wait to hear from you!