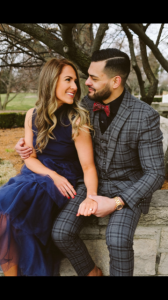 We are thrilled to announce a happy engagement within the Stones Jewelry family….
(And for comic fans we'll start by admitting that the shop isn't within the Marvel Universe and the groom isn't Luke Cage). But our Jessica Jones, daughter of our own Gail Jones, could be considered even more of a beautiful superhero than the lead character of the Netflix series.
Jessica met her fiancee, Mar, at the gym in 2015, and they started dating shortly thereafter. At about the three year mark, discussion of engagement and rings began, all centering around how important it was for Gail and Stones Jewelry to be involved in the search for the perfect ring. Jessica was certain her mom knew her well and could find exactly what she liked — and we delivered! Stones Jewelry brought in multiple diamonds for Mar to choose from, and the couple worked closely with Gail to choose the perfect ring: complete with a prong style and small cathedral setting. The ring is just full of sentimental value, given that her fiancée designed it with the help of her mom.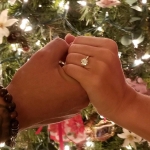 With all her family present with her at her aunt's home, Mar proposed to Jessica on Christmas Eve 2019 —  she describes it as the perfect memory and setting, given how close they all are.
To bring some fun and surprise to the special event, Mar worked for weeks with Jessica's cousin to incorporate the engagement ring into a White Elephant game: the family passing about a red box, made my Mar, with the ring and a special note inside he'd written a year before — so special that Jessica had hung onto it and, when he found out she had it, he just knew he had to include it as a touching, personalized touch.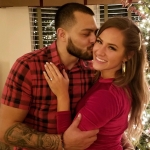 The couple plans to marry October 3, 2020, in Michigan. We wish them so much love and positivity surrounding their wedding and marriage. Congratulations, Gail, on your daughter's engagement. And a heartfelt congratulations to the happy couple!!
Are you looking for an engagement ring or wedding band? Stones Jewelry has all sorts of options and would be happy to help you choose or design the perfect rings. With natural mined diamonds, lab-grown diamonds, colored stones and more, we'll be sure to help you select the ring that will capture the sentiment and excitement of your special relationship. Feel free to contact us today with any questions, and we look forward to seeing you soon!!