The stockings are hung, the tree is decorated and Christmas cheer is filling the air! What will you unwrap this year?
We've come up with a list of our top 3 gift ideas for Christmas 2017. Check them out and, if you have any questions or would like us to gift wrap one of these items for you, feel free to stop in!
Stackable Rings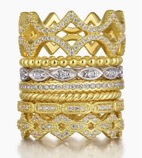 Mix and match, stackable rings have been the hottest trend of 2017. Our many suppliers at Stones make it easy to create a one of a kind look to decorate your hand! White, yellow and rose gold are all being worn together to create a gorgeous "stacked" look. Weather you add it to your wedding set or wear on multiple fingers, people are creating their own style with their own, customized choice of rings. Plain metal, diamonds, colored gemstones or texture – you really can't go wrong! Add a little extra character to your current collection!
Stackable Bracelets
Keeping with the "stackable" theme – the stackable look carries over to bracelets, too! Mixing metals with a delicate diamond tennis bracelet can create a stunning look for any occasion! And what is more classic than a diamond tennis bracelet?



Hamilton Watches
It's hard to choose a favorite from our stunning selection of Hamilton watches. This classic watch brand offers a wide selection of watches for both men and women.
Choose from special features like an automatic movement, chronograph or a diamond bezel. Hamilton is sure to have a quality watch that will suite anyone's taste and style. Our Hamilton watches come with a Certificate of Authenticity and a 3 Year manufacturer's warranty. They make a sharp, meaningful gift that can be passed down for generations to come.
Like What You See?
Stones Jewelry has extended holiday hours weekdays from now until Christmas. We're also taking part in a variety of Downtown Wheaton Christmas-themed events on Saturdays through Christmas. You can learn more by clicking here.
And don't forget to get all your shopping done BEFORE Christmas Eve. We will be closed both Christmas and New Year's Eve this year.
We look forward to wrapping the perfect gift up for you soon! Merry Christmas.