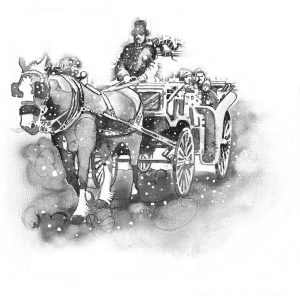 The Christmas Season is upon us, and there is a lot happening here at Stones Jewelry, as well as throughout Downtown Wheaton!
Stones Jewelry Extended Holiday Hours:
Our extended Christmas hours begin December 11th. Stones Jewelry will be open from 9am – 8pm each weekday, and will keep normal business hours on Saturday, from 9am – 5pm. We will be closed Christmas Eve and Christmas Day, then normal hours will resume December 26th – 30th. We will also be closed New Year's Eve and New Year's Day.
Downtown Wheaton Events:
Once again this year, we're taking part in Downtown Wheaton's Christmas Art Walk. Each of a dozen Wheaton stores will host a fine art piece commissioned to tell the Biblical Story of Christmas. The Christmas Art Walk will take place from December 12th – December 24th, and you can learn more at www.christmasartwalk.com.
Christmas Visits with Santa take place at Martin Memorial Plaza on Saturdays, and you can add to your Saturday fun with FREE Holiday Carriage Rides. These events take place through December 23rd this year.
On Saturday, December 16th, there will be a live nativity play every 30 minutes, from 11am – 2pm, in front of Carlson's Hardware. Live animals will be onsite, so this is a great family activity!
And for those with an artistic touch (or who simply want to admire), the "It's Like Coming Home" Gingerbread House Contest will be Saturday, 12/16, 10am – 12pm in the Wheaton Public Library. Again, no prior registration is required and all ages are welcome! Gingerbread House Contest Rules can be found here.
—
We are so fortunate to live and work in the community we do, with so much uplifting Christmas activity going on around us. We look forward to seeing you this holiday season, and wish you a very Merry Christmas.