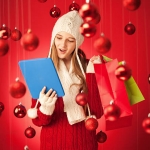 Mark your calendars, ladies!
We know the holiday season can bring long family wish lists and lots of frantic shopping. We're here with our yearly reminder that YOU deserve to pick out something amazing to find under the tree, as well!
Grab a friend and join us on Wednesday, November 29th , for Stones Jewelry's Ladies Night! We will have two special suppliers displaying their jewelry collections, a drawing to win a stunning piece of jewelry (perfect to show off at this year's holiday parties), and after dinner treats to enjoy!
Fill out your own "wish list" to ease Christmas shopping while you enjoy a fun night out with the ladies! What sounds better than that?
We can't wait to see you!