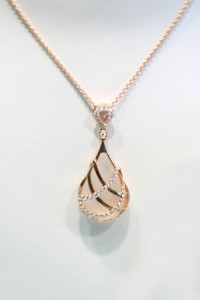 Hoping to both woo and wow her this Valentine's Day? We have your answer.
Absolutely breathtaking, February's "Featured Piece" from Armand Jacoby is the quintessential gift for your sweetheart.
This matte-finished, 15 carat white crystal pendant is beautifully accented by 84 points of diamonds, giving it a unique contrast of both softness and sparkle. While the crystal is in fact white on its own, the pendant appears to have a light-pink hue due to the reflection of the 18 karat rose gold that surrounds it.
Interested in complementing the necklace? The pendant can be purchased with a matching set of earrings, weighing approximately 7 1/2 carats each.
While this piece will likely be scooped up by someone quickly, we don't want you to feel discouraged. We're especially pleased with the selections we have this month, and will surely find you the perfect gift for your Valentine.
If you are interested in the "Featured Piece", we encourage you to Contact Us by phone or stop in. We'll be happy to help in any way we can.
We wish you a memorable, wonderful Valentine's Day, and look forward to seeing you soon!