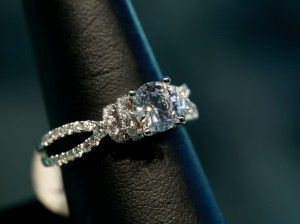 With Valentine's Day and romance in the air, there's been no shortage of tender moments around our jewelry counters over the last couple weeks. And one of the most touching occurred just last week, with an actual engagement right here in the store.
This precious couple, in their late 70's and early 80's, came in to look for engagement rings together. They squabbled kindly with one another over price: she insisted that he was willing to spend too much, and he reminded her that she promised not to look at the tags.
She, of course, continued to look at the tags.
Deciding they liked two rings equally and struggling to decide, she suddenly scooped the rings up, one in each hand, and placed them behind her back. "Pick a hand," she said, holding her fists out in front of her. "Whichever you choose, we'll know that's my ring."
He tapped a hand gently, kissed her on the cheek, and she seemed overjoyed with his choice. They had the ring sized and prepared immediately and, right there, he placed it on her hand and asked her to be his wife.
"Oh, look at my old hands," she said, admiring the ring with clear reflection and sentiment in her eyes.
"You have beautiful hands. Those are the hands he wants to hold the rest of his life." Deanna, who was helping the couple, remarked supportively.
"You bet I do," he smiled. He immediately took his now-fiancé's hand, and they walked out together, engaged.
How incredible it was to see these two — their eagerness to follow through with this tradition, making them so young at heart. We wish them a lovely wedding and the happiest of marriages, and we thank them for sharing this beautiful moment with us.
If you're thinking about getting engaged this Valentine's Day, we'd love to share this special time with you, as well.  Feel free to stop in to view our selection of diamond or sapphire engagement rings – With Tom, our jeweler, on staff, we can often have them ready while you wait. We look forward to seeing you soon!