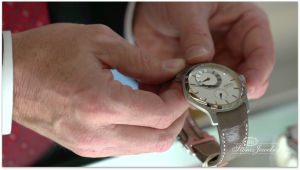 Trends come and go in the jewelry business. Oftentimes, a watchmaker's line will be en vogue for a short time but quickly fall out of favor with customers. At Stones Jewelry, we appreciate history, tradition and the ability to withstand the years when we see it. This is why we can't help by admire Ebel, a company established the same year as our shop.
In 1911, husband and wife founders Eugene Blum and Alice Levy created Ebel in La Chaux-de-Fonds, Switzerland. With Blum's technical mastery of crafting watches and Levy's appreciation of sophisticated designs, the duo had a vision that would become more than a short-term craze.
The excellence of Ebel was swiftly rewarded, as a design crafted by Levy won a 1914 gold medal at the National Exhibition in Bern, Switzerland. The award was no fluke, as Ebel pieces remain popular across the world exactly 100 years later.
Meanwhile, half a world away in Wheaton, Illinois, Charlie Stone was founding Stones Jewelry in 1911. Our customers are likely familiar with current owner David Petti, who took over the business in 1981, but Stone was the originator and business namesake. With a focus on customer service, repeat business and a warm atmosphere, Stones has lasted through this century and hope to continue on strong. We take pride in hard work and helping those we serve.
The lineage of Ebel and Stone is not to be overlooked. While founded more than 4,000 miles apart, both want to offer a watch that will stand the test of time, so to speak. Between Ebel's years of crafting beautiful timepieces and Stones' century of attention to detail, the companies have a shared history of technical excellence and aesthetic beauty.
We feature Ebel's elegant collection of watches. Customers looking to find a piece that will remain sleek, stylish and in fashion for years to come should visit Stones to peruse Ebel's line. With these watches, history is on your side.