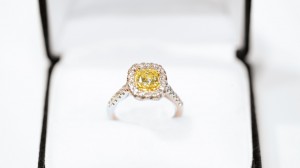 Diamonds are forever.
It isn't just the title of a James Bond film. Diamonds have been the most popular gem for centuries and are the hardest physical substance known to man. Even so, giving a loved one a diamond is never boring and can soften the hardest of hearts.
In April, Stones Jewelry wanted to feature the month's birthstone in an elegant way that any diamond-lover could appreciate. While diamonds are said to be "forever," this piece is beautiful enough to draw instant attention.
A month representing a season change, blossoming love and new life is a perfect occasion to showcase our .90-carat cushion cut canary diamond. Sparkling 1.14 carats of white diamonds surround the bright yellow diamond in 18K of white gold. Even though this gem is made almost entirely out of a single element, this featured piece shows the diamond's versatility.
Housing both white diamonds and yellow diamonds shows the different phases of purity for these beautiful jewels. The yellow diamond has been colored by nitrogen over time while the white diamond is colorless, transparent and nearly pure.
In history, diamonds have always been thought of in high regard. Commonly used as part of wedding rings, these stones are a symbol of love across our culture. As far back as the 1330s in Venice, diamonds have been cut and recognized for their beauty. Even though the popularity of other gemstones seems to rise and fall over the years, diamonds remain one of the biggest sellers at Stones to this day.
Looking for something to get that special someone? Come take a look at our featured diamond piece this month. They have been called "forever" and "a girl's best friend," but no matter what you call this gem, come into Stones Jewelry with the knowledge that you will be getting a high-quality classic.