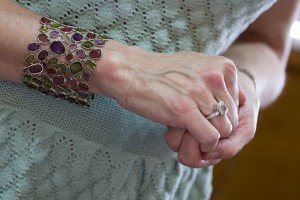 After moving to Wheaton about 21 years ago, Sara found a coupon for a free gift from Stones Jewelry in her welcome package. Visiting the store for the first time, Sara got a ring cleaner as her gift and left as a loyal customer for years to come.
Her philosophy toward jewelry is simple: "If you love it, it will work," she said.
After more than two decades shopping at Stones, Sara has found some pieces that she truly loves. We spoke with her to get some of her favorite stories and experiences from shopping with Stones over the past two decades.

Q: What's your connection to jewelry and Stones?
Sara: Well, Deanna was the first person I met here at Stones. She and I were trying to figure out something to get my niece, who had just started kindergarten, and decided to go with an Add-A-Pearl necklace. Each year we added a pearl. We decided to do it with my daughters as well; if they got straight A's, they got another pearl. I continued shopping at Stones as my daughters (now almost 21, almost 18 and 15) grew older. When my oldest graduates, she gets to pick out her favorite style.
Q: What has kept you coming back to Stones in particular?
Sara: I was working and raising kids. I didn't have a lot of extra cash, but every once in a while I really enjoyed coming in to get a watch or pair of earrings. I got to know the staff over the years and it has just been a lot of fun.
My favorite part is every October, Paul-Otto comes in with these incredible gems. He owns a stone cutting house in Germany. The first year I came for that, it was just a very busy week for me. I wanted to have fun. I came in and they had all these balloons with gems inside. I picked out one and popped it and it had this beautiful brown stone. That ended up being the first experience I had designing jewelry. The next year I came back and we designed a bracelet. I just picked out all kinds of gems; it was a blast. I told them what I wanted and we did sketches right here. It's a leap of faith cause you never really know how it is going to come back, but it turned out great.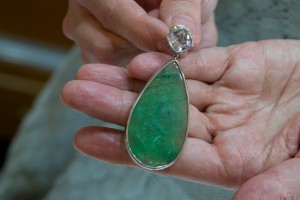 Last year I saw these big emeralds and it was like, "Ohhh, I think we can do something with these. I have the perfect bracelet to go with it already!" It's like Christmas morning. You never really know what Paul-Otto will come with and it's a lot of fun putting things together with him and Marsha.
Q: What's your favorite piece from your time shopping at Stones?
Sara: My ring, my pink diamond. I said to Dave and Paul-Otto that I've always wanted a pink diamond and both of their eyebrows raised. They had this look like "Yeah, those are special." Two months later, I had it. Dave had a designer send him some diamonds. I had picked out a style and design. Dave came over to my house, even though I had walking pneumonia, and we played around with sketches. By then he knew my taste and what I was looking for. We sat at the table and looked at the Stones and figured out what we wanted and really nailed it. This is my favorite piece.
Q: What kind of relationship have you developed with Dave and the staff here at Stones over the years?
Sara: At this point, I just trust his judgment. I know also that if a piece doesn't work out, he is going to want a satisfied customer. Once, I got a pair of drop diamond earrings for an event and they were… OK. I came back months later and found another pair and said, "These are so cool! I like these so much better." Dave told me to bring in my old earrings and said I could switch them out. "I want you to be satisfied and I want you to wear what you have," he said. That's what you get at Stones. They want you to be happy.