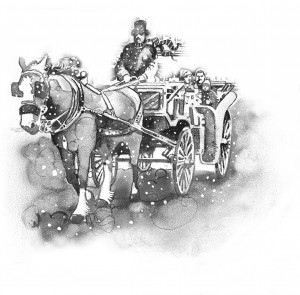 The Christmas Season is upon us, and there is a lot happening here at Stones Jewelry, as well as throughout Downtown Wheaton!
Stones Jewelry Events:
We will remain open late on Friday, November 27th, with extended hours to support Downtown Wheaton's "Dickens of a Christmas Parade". The parade starts at 6pm, and will pass right in front of our store, proceeding east on Front Street. We're staying open until 8pm, so feel free to stop inside for some warmth!
Our extended Christmas hours begin December 10th. Stones Jewelry will be open from 9am – 8pm each weekday, and will keep normal business hours on Saturday, from 9am – 5pm. We will be open Christmas Eve and New Year's Eve from 9am to 4pm. We will be closed Christmas and New Year's Days.
Downtown Wheaton Events:
Christmas Visits with Santa start Downtown Wheaton, Saturdays only, on 11/28 and go until 12/19, 10am to 1pm. These are located at Martin Memorial Plaza. And add to your Saturday fun with Dickens of a Christmas Carriage Rides, happening 12pm to 3pm.
For you animal lovers out there, Santa's Reindog Contest will be Saturday, 12/12, at 11am in Martin Memorial Plaza. All pets are welcome to enter, and no prior registration is required.
And for those with an artistic touch (or who simply want to admire), the "It's Like Coming Home" Gingerbread House Contest will be Saturday, 12/19, at 12pm in the Wheaton Public Library. Again, no prior registration is required and all ages are welcome! Gingerbread House Contest Rules can be found here.
—
We are so fortunate to live and work in the community we do, with so much uplifting Christmas activity going on around us. We look forward to seeing you this holiday season, and wish you a very Merry Christmas.