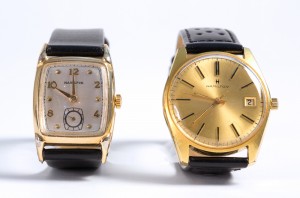 Stones Jewelry has been a family business for more than a century; getting the opportunity to help another family protect and revamp its precious heirlooms is one of our favorite things to do. With Father's Day coming up next month (June 15, just in case you didn't know!), we spoke with a local Wheaton resident and dad about some recent watch repair work from Stones.
The resident brought in two pieces from Hamilton Watch Company; one was his grandfather's from the 1940s, another his fathers from the 1970s. Each watch had missing or damaged crystals, kept poor time and was in rough shape. It was our job to make them look and work just as they had when his dad and grandpa first purchased them.
"Although they're not worth much monetarily, sentimentally they're huge," he said.
Five years ago, the Wheaton resident brought in his grandfather's watch. He was so impressed by the repair and customer service by Dave Petti and company at Stones that he decided to have his father's watch revamped as well.
"I'm really impressed with the quality of both," he said. "To me, they almost look like new watches. Stones went ahead and completely cleaned up the dials, replaced the crystals, cleaned all the components and gave a new life to the watches.."
In addition to having these two watches fixed, the resident purchased another Hamilton timepiece from Stones for himself and, eventually, his own children.
"I'm looking forward to passing down three generations of Hamilton watches to my sons," he said.
Do you have a gift for your dad this year yet? Come take a look at what Stones Jewelry has to offer! Whether you're looking to have an old watch fixed up for dad or buy him something brand new, our staff can help you find just what you're looking for.