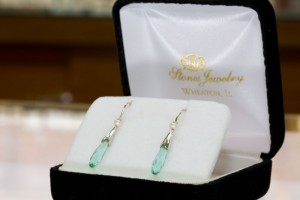 As the sun gets brighter, the colors you wear get lighter. Spring is a time of change, blooming flowers and new fashion trends, but one spring style will always be present: pastels.
Here at Stones Jewelry, we have many pieces of pastel jewelry that would be perfect to match with any spring outfit. Whether you want to buy a pair of earrings to go with a new sundress, a necklace with a tank top or a new ring that will go with anything in your collection, we have it here at Stones.
How do you like your pastels?
There are many different ways to wear pastels, but how do you prefer to go? InStyle Magazine said for those who don't like sporting lighter colors by themselves, bold pastels would pair perfectly with lighter colors. Use your imagination with this; you could wear a lighter-colored pastel outfit with some darker-shaded pastel earrings.
The magazine suggests choosing clothes with clean lines and balancing solid colors on solid colors. Accessories, such as your new jewelry, can help add flare or a unique note of color to an otherwise solid-colored outfit.
You should avoid two pieces of a soft color scheme at the same time. This means keeping your outfits and accessories simple and sensible to stay looking bright and keep away from looking like a walking Easter decoration (don't worry, we won't let this happen!).
Another great suggestion is to wear metallic or metal-based jewelry with your springtime pastel outfits. We offer an enormous collection of precious metals and stones, multiple types of metals in various styles and some other extremely distinctive pieces.
No matter how you like wearing pastels in the springtime, we have you covered at Stones Jewelry. Come in and look at our wide variety of available pieces or look to design and create your own! Our talented staff will make sure you get what you want to look great just in time for the beautiful weather.