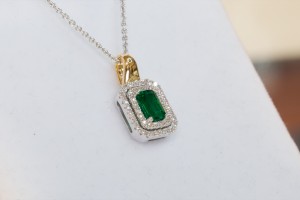 May is the time of the season when the grass, trees and plants all start getting a little bit greener. After months of gloominess and cold weather, our featured piece will help your jewelry collection become greener as well.
The first of May's featured pieces is a half carat emerald surrounded by one-quarter carats of round diamonds. It is set in 18-karat yellow gold and sparkles to life when you look at it in the light. This would be a brilliant addition to any jewelry lover's collection. For those who fancy emeralds or were born in May, this will end up being an all-time favorite.
Aside from being May's birthstone, this is also the gemstone for the 35th and 55th wedding anniversary. We can't think of a much better way to celebrate a birthday or decades of happiness together than by giving this beautiful piece to your soul mate or a loved one.
The emerald is a notable gem throughout the past and in modern times. As one of the three precious stones, it leaves onlookers green with envy. Emeralds have a special place with royalty over history, as they were said to be one of Cleopatra's favorite gems. These green beauties were mined as early as 330 B.C. in Egypt and continue to be in heavily mined in countries such as Zambia and Columbia.
The color and shape
Emeralds are the most valuable gemstone by weight, but the radiant color is usually what makes people love them. The green hue is mesmerizing and has captivated hearts and minds for years. This is something our loyal shoppers cannot overlook when searching for an emerald of their own.
Seeing all the new greenery popping up around town will make anyone want to get outside a bit more. When you're enjoying some fresh air, pop over to Stones Jewelry and take a look at this month's featured emerald piece. You won't regret it.