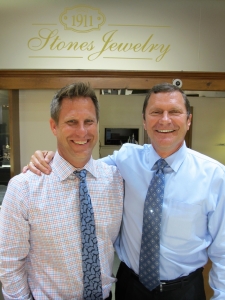 Tradition is a strong theme that exists within the walls of Stones Jewelry. For 106 years, it has been a family owned business and a cornerstone in downtown Wheaton. The tradition continues as David Petti, owner of Stones Jewelry has passed on the business to his nephew, Brad Huiner, on August 2nd, 2017.
"Brad has been working at the store for three and a half years learning the intricacies of the business so he can continue operation just as it has been for the last 106 years," states Petti. David has owned Stones Jewelry since 1984 and is excited and pleased to pass the torch onto Brad.
"We have always maintained the family-owned emphasis. It has been such a blessing for me to be able to carry out the traditions of Charles Stone, Emil Shebik, and Jason Johnson (Petti's father-in-law) and to now pass our business along to another member of the family."
Brad is just as excited to continue the legacy of Stones. Previously, he worked for his father's family business, Batavia Concrete. While concrete is a different kind of rock, Brad knows the value of hard work, honesty, exemplary customer service and is thriving in the jewelry world.
"I plan to continue to be hands on and involved in the community," states Huiner, an active member of the Lyons Club. He states, "It is an honor to be a part of what four generations before me have built".
Petti and Huiner emphasize that Stones Jewelry is staying in the family and maintaining Stones' great reputation of customer-oriented service and beautiful jewelry.
All the same friendly faces will greet you at the door, including David, who is still around and plans work on a part time basis.
David closes his chapter as owner of Stones Jewelry with heart full of gratitude to the Wheaton community, who have given Stones over a hundred years of business. He has enjoyed seeing generations come into Stones for jewelry items, celebrating milestones in their own lives.
It is with pride that we make this announcement, as we feel overjoyed that Stones Jewelry will remain the family business it has been for 106 years.