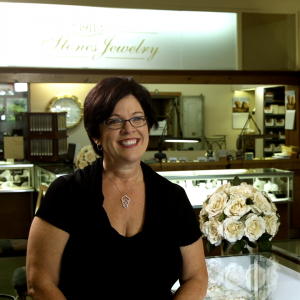 With three years at Stones Jewelry under her belt, Gail has had plenty of time to fall in love with the jewelry business… and a few of the pieces in the store. To kick off our "Favorite Things" series, in which the Stones Jewelry team will share our favorite pieces, Gail has her three top choices set to go.
"I can't possibly rank them. I love them all!" she explains, "but I'll be happy to show you my favorites in no particular order…"
To learn more about Gail's picks, check out the gallery below. We've included captions under each describing the pieces, and the photos can be enlarged by clicking on them. Enjoy browsing!
While a picture's worth a thousand words, these pieces are, of course, truly brilliant in person. Feel free to drop in any time to chat with Gail and see your favorite from above. We're always happy to show off our collection and look forward to seeing you soon!