For those of you who know Judy from around town, you know she is quite the character. Vivacious and full of energy, possessing a collection of over 300 rings, (and perhaps the same number of necklaces to match), Judy spends quite a bit of time with us in (and out of) the store. In fact, the relationship has grown so close over the years that our own Deanna accompanies Judy when making a cemetery run each month, visiting Judy's husband in one location, then her parents in another (where she lovingly takes her father a glass of ice water, and her mother a cup of coffee).
So when it came time to consider an article on jewelry myths, there was no one better to help us out with this conversation than this queen of collecting. And, believe us, this conversation was a real treat:
Jewelry Myth #1: Jewelry Stores Won't Clean or Repair Jewelry That Wasn't Purchased From Them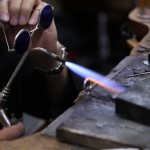 "Let me tell you, I bring everything here!" says Judy. "With a 3rd generation jeweler on-site, this is the best jewelry store in the Midwest! Everyone else can have their Tiffany's and their Cartier – The people at Stones are geniuses about everything except for what they charge. I can't believe they don't charge more – to the point that I insist on paying them more than they ask! I tell them they have to let me pay what I want!
I will always come here: There's a reason they've been here 100 years, and they're sure to be here for 100 more."
Jewelry Myth #2: You Can Overwind a Mechanical Watch
This one is heard frequently by Dave Petti, and he wishes to clear the air.
If you're a true mechanical watch enthusiast, you've had the experience of winding your watch tight and having the hairspring break. And because this seems to happen during the winding process, people assume that it's the tight winding that causes the break.
Well, we're here to tell you that no matter how you wind your watch, the hairspring will eventually break. Just like parts of a car  – We all need to renew them from time to time. In actuality, not fully winding your watch will keep it from its peak performance level. So wind away!
Jewelry Myth #3: Blue Diamonds Are Only Available in St. Maarten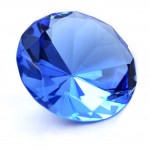 "I get this all the time!" says Hillary Fredrickson. "I got off a cruise ship in St. Maarten and saw a large banner there with the claim. It stumped me, and I didn't think people believed it. But, sure enough! We get customers who come in believing they've stumbled upon something rare while on vacation. And they're always a bit disappointed when we take them to a selection of precious blue diamonds right here in our store. What they've traveled the globe for was right here in their hometown."
While we are sure that quality blue diamonds can be found in the islands, we have also met people who received poor quality stones or were not given the best deals during the haggling process. If you plan to buy in the islands, please educate yourself before you go. And if you'd like a blue diamond without the hefty airline or cruise price tag, take a simple car ride to see us.
Jewelry Myth #4: Putting Oil on an Opal Keeps It From Cracking
"Oh, no it doesn't," says Judy adamantly – And we agree!
In fact, putting oil on your opals can actually damage the stone over time. For best maintenance of these stones, we recommend having them professionally cleaned.
Jewelry Myth #5: It Is Bad Luck to Wear Your Birthstone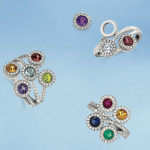 "Fiddlesticks!" says Judy.
But we hear this one all the time as well – The superstition that wearing the stone you're born under will bring hard times.
Another similar myth is that you should never wear another person's birthstone.
"And if that were the case," says Judy, "I'd have been doomed long ago. I love the colored stones – People get caught up in emeralds, diamonds, sapphires and rubies – But there are so many out there! Just take a look at Stones' Gem Show: there's a world of other colors and gems that are much more rare. Wear what you'd like!"
So if you have any fine jewelry tales you want to get cleared up, feel free to stop in and ask away! We're happy to help those not familiar with the ins and outs of gemstones, watches and precious metals in any way that we can.