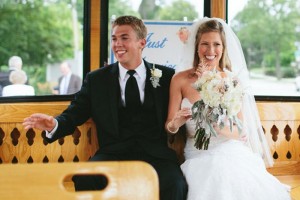 Our story begins in 1934, when a man purchased an engagement ring at Stones Jewelry, leading to a lovely wedding in August of 1935. Certainly no one knew at the time that, 78 years later, that ring would be on a different finger, and history would be repeating itself all over the pages of the Chicago SunTimes' Splash Magazine…
After this recent wedding feature, Kevin and Kristin Tonn have become quite the "couple to know" around town. High school friends and college sweethearts, these two kind and bubbly people melt in each other's company and are well deserving of the beautiful love story they've lived. And we're proud to say that this story began at Stones Jewelry four generations ago.
That couple married in 1935? They were Kristin's great-grandparents. And 78 years later, it's Kristin who wears this ring on her right hand, given it as her "something old" on her wedding day by her grandmother, who explained its history. "I brought it to Stones Jewelry right away, they cleaned it up, and I haven't parted with it since. It's become a part of my daily routine — I adore it," Kristin gushes.
But this isn't where the story ends. In 1983, a gentleman proposed to his girlfriend with a ring from Stones Jewelry in Adams Park downtown Wheaton. This couple would later become Kristin's parents.
And in Spring of 2012, it was Kevin and Kristin's turn. The two had met and become close friends at Wheaton North, but it wasn't until he went to college in Hope, Michigan and she went to the University of Illinois Champagne that they realized, through the distance, that they meant more to each other. Kevin and Kristin began dating long-distance their Freshman year and, finally, while Kristin was at NIU for her Masters in Spring of 2012, they finally resided in the same town again.
Following the family's tradition (knowing Kristin's dad had gone to Stones), Kevin spent quite a bit of time with Dave Petti picking out the perfect diamond, then worked with Dave to design a ring for Kristin around it.
Kevin went on vacation to South Haven Michigan with Kristin and her family. He tried to propose each evening to Kristin, but she admits that she kept getting in the way. "I was sick the first night we were there, so didn't go out. Then each night he'd try to get me to take a walk on the beach with him, but I didn't want to go. We'd spend all day in the sand, then get back and shower, so the last thing I wanted to do was get covered in sand, again."
The day Kevin proposed, Kristin's brother came back from a long trip out of the country. Knowing that Kristin would go on the walk if her brother was involved, Kevin recruited him, and the three set off. Kristin's brother came up with an excuse to go back and, before she knew it, Kevin was down on one knee.
The rest is history, and can be seen in the beautiful images on Splash.
And what tops this all off for us is not only the special relationship between the two of them, but the incredible friendship we've been able to develop with the couple. We think the world of them, and Kristin said this of the experience: "Dave (Petti) has just been wonderful. He's been so great to Kevin & me — especially Kevin. I'm sure it's so stressful as a man, picking out an engagement ring and trying to do the right thing, and they have formed a really cool relationship. Dave's super supportive, and every time I go in there, everyone's so kind and complimentary".
Congratulations, Kevin and Kristin, and many happy wishes for your marriage!
If you're looking to get engaged, or just choose a meaningful gift that can last through generations in your family, think of Stones Jewelry. We've been a cornerstone of Downtown Wheaton since 1911, and would be happy to help.