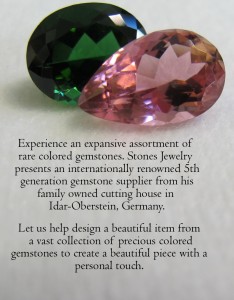 Stones Jewelry invites you to experience a world of color! Straight from a fifth-generation cutting house in Idar-Oberstein, Germany, a collection of colored gemstones rivaling those in museums around the world is on its way to historic Downtown Wheaton.
A true demonstration of the entire spectrum of colored stones — showing so much more than emeralds, diamonds and rubies – our Colored Gem Show is a highly-anticipated event for both gemstone and fine-jewelry enthusiasts. Those who attend the show annually know the breadth and beauty of the collection and can attest to what an awe-inspiring experience it is. And this year, as is tradition, we will give away a free colored gemstone to those who come by. There will also be three drawings for fine colored gemstone pieces, so make sure you enter!
This year we've done our due diligence to make sure the show will be extra special! Dave Petti, the owner of Stones Jewelry, and Hillary Fredrickson (recently featured on our blog), traveled to Germany and met the staff of the cutting house in person: including the polisher, gem cutter and the rest of the team and family. Deeply grateful for the hospitality they received, they were touched to see that this 21-year relationship meant just as much to this German family as it does the staff at Stones.
When you stop by the show, make sure you ask to see Dave's tourmaline ring. While in Germany, he had the privilege of watching this cut from rough right in front of him. It's a simply gorgeous piece.
So, start your countdown clocks now! We're just a couple weeks away from what promises to be a most exciting event. Gemstones like this don't come along everyday – Make sure you mark your calendars, and we'll look forward to seeing you then!