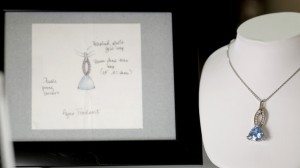 Spring is closing in. Soon, gusting winds and icy sidewalks will be replaced with blue skies and the sounds of flowing water. Aquamarine, the March birthstone, is a symbol of our renewed ability to go out onto the seas and gives us a preview of what the new season will bring.
While it may be hard to envision the picturesque landscapes and sunshine in the midst of the cold, our featured piece for March may help you see the light. The 3.53 carat aquamarine pendant is held in place with a loop that features 15 diamonds at .14 carats, as well as a polished 14k white gold loop.
This piece, with its notable blue color, may remind of you warmer days and being out on the water. At this point of the year, it's a reminder we could all use. The color and vibe that this jewel exudes is no coincidence, as the word actually derives from how you would say "water" (aqua) and "sea" (mare) in Roman. Sailors traditionally wore these jewels when out on the seas and oceans.
Do you know a loved one born in March? Reward them (or perhaps yourself!) with our featured piece of this month. Contact us and, as always, feel free to visit the shop to see the aquamarine pendant yourself.