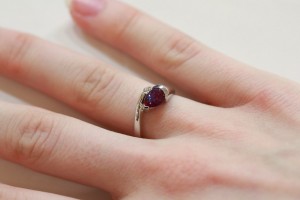 Alexandrite is an extremely rare stone and something of a proverbial chameleon. Typically small in stature but extremely hard, these unique gems have a color that will often change when viewed in different lights. This month at Stones Jewelry, we bring this rarity to you as one of our featured pieces.
Our beautiful alexandrite ring features .05 carats of diamonds and is set in 14-karat white gold. The stone itself is lab-created, making it appear crystal clear and giving it aesthetic beauty. This is a ring that will go perfectly with any style, as it stands out on its own with a color that truly pops.
This is a ring for jewelry lovers and experts, but don't let that scare you away if you are new to fine gems. This alexandrite will catch anyone's eye and is bound to be in your thoughts for days once you see it.
A royal history
The alexandrite is named for Russian Tsar Alexander the II during the reign of imperial Russia. However, a French mineralist named Nils Gustaf Nordenskiöld discovered it initially, according to history. The stone was actually named the official gemstone of Imperial Russia due to its red and green color change, something that drew the admiration and fascination of many in power.
History aside, what it takes to form this amazing stone is simply astounding. The chemical elements of beryllium and chromium contrast and do not usually go together. With alexandrite stones, these two elements are brought together in an incredible way that is scarcely seen in nature.
Fun fact: this stone would actually be an emerald if not for the lack of silica, which is one of the most common elements found in Earth. It took a lot for this stone to form the way it does. To see it is truly a sight to behold.
Come get a look at this rare gem at Stones Jewelry! We're sure you'll be captivated by its allure and combination of amazing qualities just as much as we are.