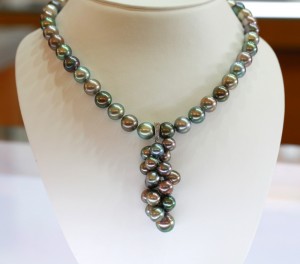 Style should be fluid. When you look for an accessory to own, you want to purchase something that can be worn and look as stunning in the summer as it does in winter. Our second featured piece this month, a Tahitian pearl necklace, can do just that, as this dark-but-reflective set of pearls will look great no matter when you wear it.
Tahitian pearls, which are also known as Black South Sea Pearls, are known across the world for their incredibly vivid, exotic colors and reflectivity. From afar, they may look similar in color, but they almost blend as one with their variety of blue, silver-green, dark purple and nearly black coloring.
These Black South Sea Pearls come from the Pinctada Margaritifera oyster, which is only found in Tahiti. The pearls are grown inside of the shell anywhere from two to five years before harvest and are considered to be much more rare than white pearls. Left un-dyed and un-treated, they appear just as they were when harvested from the oyster in Tahiti.
If you love this necklace but are looking for a bit more versatility, add the Tahitian drop-enhancer. The extra pearls, made from the same Tahitian oyster, can clip on between two pearls in the necklace. This gives you the option to wear it with the Tahitian strands or pair it with another necklace or chain.
The hue of these pearls may not all be the same, but the combination fits together perfectly to create a unique aesthetic. Each pearl is approximately 8 millimeters in diameter, which is about as small as they come from oysters in this region, as they tend to be rather large.
One of the most fantastic parts about this particular necklace is how stylish it is on its own. Pearls are often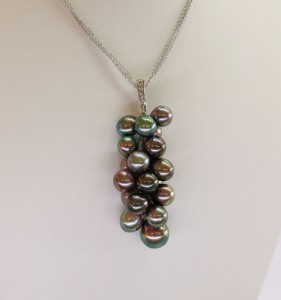 worn layered on top of other, different colored pearls, but you won't have to worry about layering anything with this necklace. The variety of colors on this strand will be enough to make it stand out as a unique accessory wherever you may wear it. It's multifaceted and has the ability to go with most any outfit you choose to couple it with.
Fortunately, they aren't a rarity here; you can bring home a great piece of these majestic oysters in Wheaton. Seeing this string of pearls and its accompanying piece in person is truly breathtaking. Come to Stones Jewelry today and fall in love with this astounding piece of jewelry. We are certain you will cherish this piece for years to come.