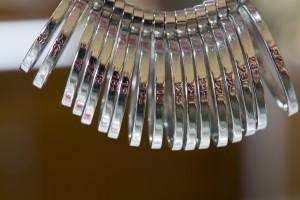 In this month's edition of "Ask our Goldsmith," our monthly series speaking with Stones Jewelry's long-time goldsmith, we asked Tom if he had any good stories from pieces he's worked. We also wondered what kind of unique pieces he's gotten a chance to work on.
This month, Tom's answer features an appearance from one of the superstars of the 1985 Chicago Bears Lombardi Trophy winning team:
"The year the Bears won the Super Bowl, I sized William Perry's Super Bowl ring. The Fridge! It was size 18, which is very large.
I don't think we have ring sizers that go that high, but we have a steel ring stick, called a mandrel, that goes up to 24, which is essentially the size of a baby's bracelet. So you can imagine how big the Fridge's ring was!
As far as unusual things I've worked on, we do a lot of glasses here. It doesn't have to be gold for me to work on it; the only thing I can't solder is titanium. The local optometrist is usually the first stop people make, but they'll refer them to us if the job is out of their reach."
Check back next month for more with Tom! Anything you've wanted to know about gold or jewelry? Send us your questions!