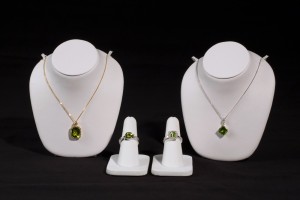 With summer winding down, why not keep a small piece of sunshine in your jewelry collection?
Peridot gems have been known for their beauty for centuries; it was actually one of Cleopatra's favorite gems. As the summer sun gives its final call, it's quite appropriate that the ancient Egyptians referred to the August birthstone as the "gem of the sun."
Now, you can have a beautiful peridot piece from Stones Jewelry in your collection. With a color range from golden lime-greens to opulent grassy greens, these stones can be the perfect reminder that warm days are always just around the corner.
Stones Jewelry features a number of different peridot pieces in our store, each with its own unique, aesthetic traits. If a ring is what you desire, we have one 8-by-6mm oval peridot with a fine green color, sure to look fantastic with any style. This piece features a 14K white gold bypass and two accent round brilliant cut diamonds.
We also have a cushion cut peridot weighing 1.14 carats with a radiant green color. This peridot is featured in a 14K gold ring and surrounded in a halo of diamonds.
Looking for another way to wear one of these beautiful green pieces? Stones Jewelry also features:
Loose peridots, one that is a 3.55-carat cushion cut and the other that is a 4.10-carat pear cut. These can be used to create stunning, one-of-a-kind pieces with the help of our experts at Stones Jewelry
A necklace that features a 3.19 carat Peridot with an accent of diamonds in 14K white gold
Another necklace that features a 3.95 carat stone with .29 carats of diamonds in 18K of mesmerizing gold
It's in the Color                                           
Peridots, like many other gems, will usually have their value indicated by its color. Pure green is seen as the most valuable and popular, but those gems with a yellow hue are also highly sought after. No matter the color, our pieces have the quality you are looking for.
The cut and clarity are also essential elements. Rough peridots are usually thick crystals and are cut according to their shape. The smaller gems are usually cut into traditional pieces while the larger gems can be used in unique ways, such as the loose peridots we feature at Stones Jewelry.
Come into our store to see how these pieces could fit into your collection.