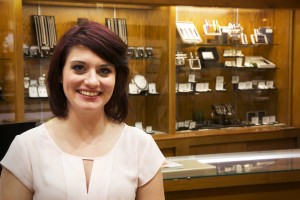 Working at Stones Jewelry since June 2014
Hometown? Yorkville
Alma matter? Wheaton College, Art History major
Since starting at Stones Jewelry earlier in the summer, Molly, the store's newest employee, has learned a lot about the jewelry business.
"I used to collect and polish rocks when I was little," Molly said on a rainy Thursday morning, reflecting on her early childhood. "So it was really awesome seeing the rocks that could form into these unique, beautiful pieces here. As an art history major, I can really appreciate the artistic nature of jewelry."
Previous to starting at Stones, Molly became acquainted with Downtown Wheaton's local shops through attending Wheaton College. After getting to know Dave, Gail, Deanna and other employees at Stones (as well as getting a helpful recommendation from a friend), Molly was approached by Dave with an opportunity to join the Stones family.
Ready for a change, Molly was extremely excited and said it was a huge honor to be able to work for such a historic business in downtown Wheaton.
Thus far, her favorite part of the job is when customers come in to have a custom piece designed. She's enjoys being a part of the creative process and learning about the details that go into creating jewelry.
"I would love to eventually design jewelry," Molly said when asked about her goals. "I've always loved design. I am passionate about gaining knowledge and experience and look forward to taking design classes in the future. As far as a life goal, that's always been to be true to myself and be happy where I am no matter what I'm doing."
Next time you come to Stones Jewelry, be sure to say "Hi" to Molly, the newest member of the Stones Jewelry family.