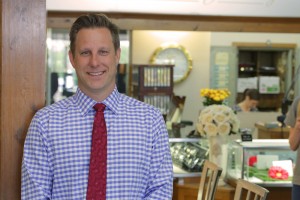 Meet Brad, one of the newest employees at Stones Jewelry. When it comes to the jewelry business, Brad may still be a rookie. However, he is no stranger to the long standing family tradition of quality, honesty and superior customer service at Stones Jewelry.
Brad met his wife Lea, who is David Petti's niece in the store almost 10 years ago.
"My aunt is a longtime customer of Stones and told me I had better go in meet Lea,'" Brad said. "I came in on a Thursday night with a watch with a dead battery and the rest is history. We've been married for over eight years now."
Brad, who grew up in nearby unincorporated Hinsdale and went to school at Calvin College, recently left a 20-year career in marketing. He said he wanted to get back into a small business atmosphere and be able to work more closely with customers. At Stones, he knows he has the perfect opportunity for this.
"My favorite part of the job is getting to know the customers. I love hearing stories of how Stones has been a part of the many milestones in our customer's lives, from crosses at first communion, to ear piercings, to wedding rings, to birthday and anniversary presents," Brad said. "It is fun to celebrate with our customers."
As Dave's nephew and the next owner of Stones, Brad said he's looking forward to continuing the fantastic tradition of Stones Jewelry.
"I take great pride in the tradition of integrity and customer service that started with Charles Stone over 100 years ago and has continued through Emil Shebik, Jason Johnson and now David Petti," Brad said. "I am looking forward many years of serving the jewelry needs of the community."