The typical shopping experience is one of "what you see is what you get" — the merchandise on the shelves is all the store has to offer, and you're to pick from whatever is currently in stock.
At Stones Jewelry, however, that's just not the case… or, it's "not just the case", if you'll let us play with words a bit. While we always carry a wide and beautiful collection of items you can pick out right from the case and take with you, we also help customers to personalize, reset and design jewelry, as well.
Kate and Troy Wallace discovered this years ago, and they've been kind enough to give a testimonial about their experiences at Stones Jewelry. They share their stories about creating both a family ring and resetting Kate's engagement ring, below:
"Oh, there's been so many great experiences over time," said Kate when asked about her favorite pieces, "but I guess there's two that really stand out.
Brad Huiner currently works at the store and, 9 years ago, his wife Leah did. I was pregnant with my son and wanted a blue stone to symbolize his birth. Leah helped Troy to pick out the perfect aquamarine which, years later, became accented by a thin, pink sapphire band I wore underneath, symbolizing my daughter.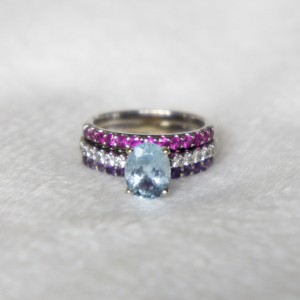 When it came time for a third child, the rings no longer fit together and accented each other in the way I would like. Instead of starting over, however, I took the pieces in to Hillary and showed her the current settings, wondering if there was anything I could do."
Stones Jewelry's Hillary Fredrickson remembers this well. "I love working with Kate and Troy – they're two customers who really get into the creative aspect of designing their own jewelry and have so much fun in the process.
To perfect the ring symbolizing Kate's children, we added two bands to the original aquamarine piece, making it all one ring. The piece is gorgeous, and holds the original stone better with support from the bands on either side…"
Kate adds, "And what's so neat about it is that the ring wasn't just made in one quick step; it was made over the years. It's creation took time, and followed the exact timeline of our family."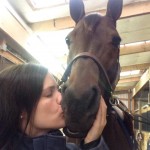 While this family ring has remained deeply meaningful to Kate, the recent resetting of her engagement ring is worth noting, as well.
"We got engaged when we were 22," explains Kate, "and my life has changed so much since then. I now ride horses everyday, am raising children, and my original solitaire setting was very top-heavy and high – it was catching on everything. My rings and hands endure a lot while riding, especially.
I felt bad, but nothing I saw in the case stood out to me as a solution. Again, Hillary was helping me, and she was wearing her beautiful tourmaline ring, which happens to be a large solitaire stone. That setting seemed perfect and, once I expressed interest in something like this, Hillary went so far as to send her own ring in to the jeweler for two weeks to have him duplicate it. He set my diamond perfectly, it's got a nice squared back so it doesn't move while I'm riding, and I just love it.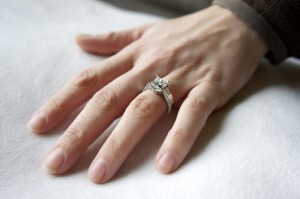 The best part is… it's really not about the jewelry. It's about the relationships. Working with Hillary… she just makes me feel like I have a say in what's going on, and like I'm a real part of the creative process. She understands my visions exactly, and working on the jewelry is actually challenging and fun.
The whole store is this way. We've known Dave for many years as well, now, and it never matters if you have a tight budget or $25,000 to spend – we've referred several friends and family, and all walk away feeling really good about their experiences."
We're so grateful to Kate and Troy for sharing – working with them has been such a great pleasure to us.
And if you're looking to fix or simply refresh a piece of jewelry you have, visit our store downtown Wheaton. Resetting and redesigning pieces is something we do everyday, and we'd be happy to help you restore the excitement to your precious stones.