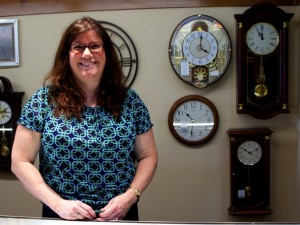 So, we don't know many little "fun facts" about you, yet. Tell us a little about yourself.
Well, I'm the fourteenth of fifteen children in my family. I grew up in Wheaton, and I have two children in the Wheaton School District, now, and two who graduated and have moved on.
I've been married 31 years, and we have a very musically-inclined family. I'm a singer and was previously a worship leader at the church. Currently, I am small group leader for teens. I also really enjoy hiking around Herrick Lake (or in Oregon, when I can make it there — I think Oregon's just a utopia on Earth!)
Most recently I worked at Graham's Chocolate. Many of the folks I help here at Stone recognize me from there.
What's your favorite thing about your job so far?
The people. I've always gravitated towards customer service positions where I get to help others face to face, and here I get to catch up with people I haven't seen in years. It's been great.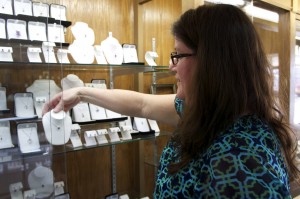 Do you have a favorite customer story?
So far, it would probably be getting to help a friend who I hadn't seen in 28 years with some jewelry repairs. We used to bowl together, but lost touch. It was so neat to reconnect — especially to see that she's become involved with the church. I've prayed often for her, and it was wonderful to see that we've taken similar paths and to rekindle the friendship.
What's you favorite type of jewelry to wear or sell?
While I love to wear necklaces, I really can't wait to help someone design an engagement ring. I've been learning all about the process, and I look forward to being about to contribute to a piece in that creative, meaningful way.
Why do you enjoy working at Stones Jewelry?
The support. Everyone here has been so wonderful and kind to me — had such patience as I learn the business. They've made transitioning jobs exciting and easy. I really love working here.