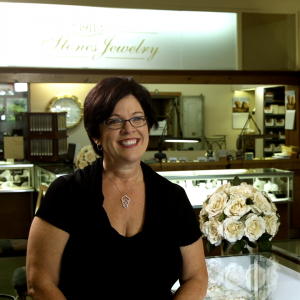 How long have you been with Stones?
I've been here for two and a half years. And I've known Dave from church for over twenty years!
I had been a long-time customer of Stones, and one day I was leaving the store just as Dave was coming in. Dave asked how my job was and, in reality, I was kind of burnt out. He then asked what I thought of retail, to which I responded with a smirk that I was too old.
It turns out that Dave had been in his office praying for help with finding the right person to fit in with the rest of the crew here at the store. At the same time, I'd been down and discouraged with my job, praying for a new door to open. Turns out we were the answer to each others' prayers. I know, now, that I'm right where God wants me.
What's your favorite thing about your job?
I went to school for design, and this job pulls on that in many ways. I get to work on the cases and the displays, and I think helping people design jewelry is a whole lot of fun.
I love partnering with customers in the design process. I love hearing their stories and using my background with design and color to bring the pieces that mean so much to them to life.
Do you have a favorite customer story?
Oh, it would have to be this one couple I worked with. She'd been wanting a family ring for a long time and was so dedicated to getting it made that she spent hours designing it herself.
The ring had each of their children's names engraved on it with their birthstones. They also included a child that had passed away, adding a stone in remembrance. Then there was a diamond in center of the ring to represent their marriage.
Anyways, it wasn't so much the actual ring that I remember. It's the way the two of them reacted, how beyond thrilled they were as the ring came to fruition. The husband was so excited to be able to do this for his wife (I think even more thrilled than she was!). It was such a blessing to see the two of them like this. He told me that their kids were grown and out of the house, so it was now time to do this just for her.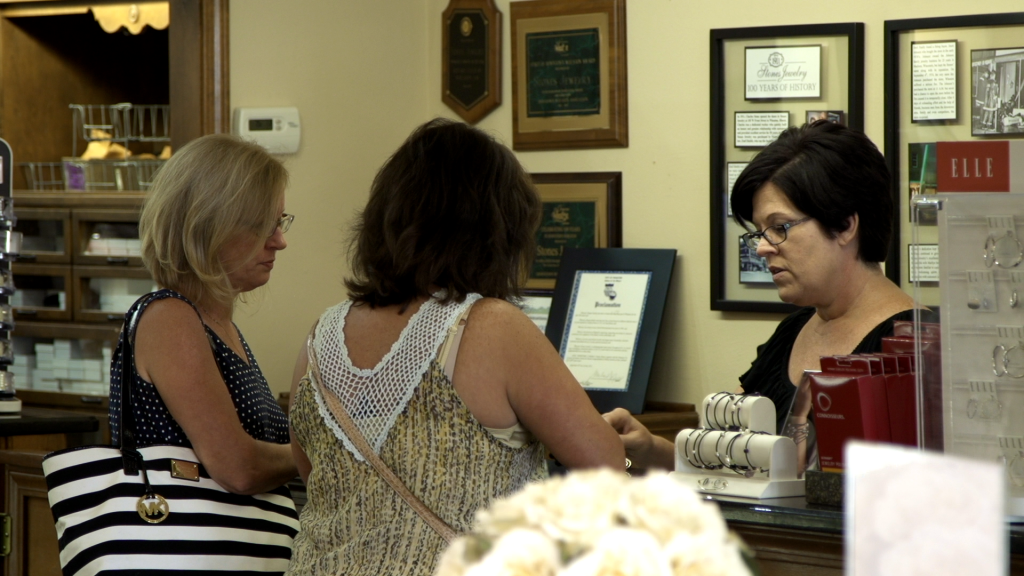 What's you favorite type of jewelry to wear or sell?
I love colored stones. I'm taking my GIA certification in colored stones, and I find it fascinating how they're mined and refined.
Then again, what they say is true. Diamonds are a girl's best friend. But those colored stones… they're really special.
Why do you enjoy working at Stones Jewelry?
It's all about the people that I work with. We're like a big family. We really are. There's never a dull moment here. Things are always changing, and we stay busy enough that we're always doing something. And we all have a common faith, which is neat to share and have a community around.