Last Christmas Dave Petti, the current owner and operator of Stones Jewelry, was given a rare and extraordinary gift by his father-in-law, from whom Dave purchased the store in '85.
When Dave opened this 1940 Hamilton chronometer, one of only 9,901 made from 1940-1943, he was instantly enamored with the timepiece. And when a mere month later the Hamilton rep visited Stones to present Hamilton's limited edition 120th anniversary piece – an homage to this 1940 marine chronometer – he was a bit awestruck when Dave displayed the original side-by-side with its successor.
For those of you not familiar with maritime operations, a chronometer is a timepiece used to help ships with navigation. Before its invention, ships would have to stay close to familiar coastlines, use celestial navigation techniques or rely on sheer guesswork to end up at their desired destination without crashing or falling off-course. Certified to provide precise, reliable time at sea, a chronometer provides ships with a measurement of longitude to navigate with accuracy.
The history of these Hamilton timepieces is fantastic. In the 1940's and throughout WWII, naval ships relied on these Hamilton chronometers for accurate navigation. While still used for navigation today, the original Hamilton chronometers also became desired timepieces for display, with FDR even positioning one in his library at Hyde Park.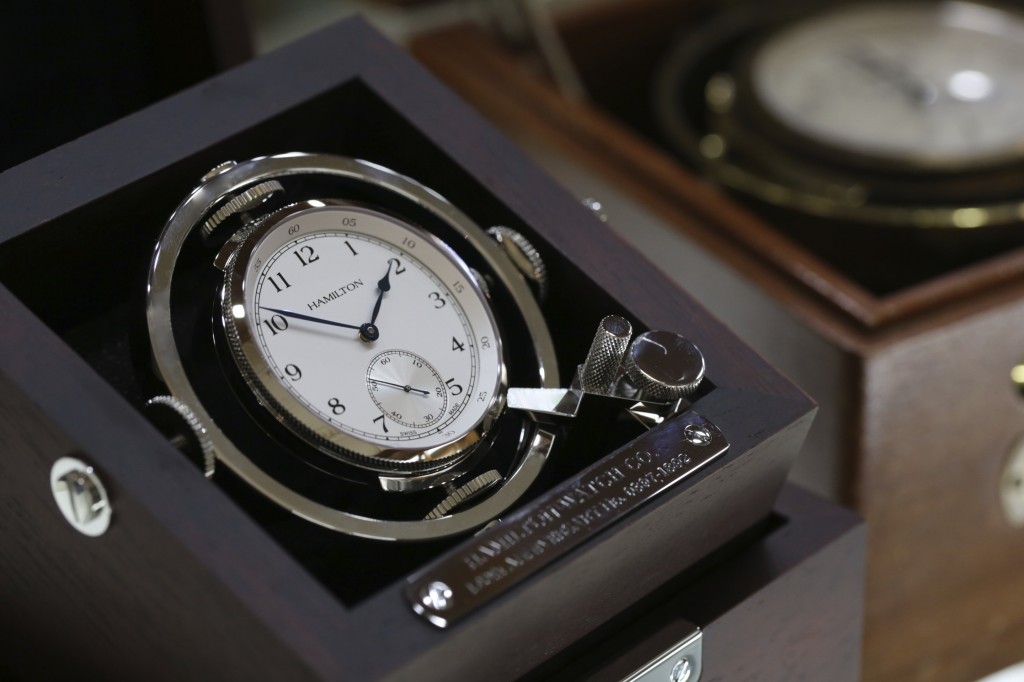 The Hamilton Khaki Navy Pioneer, with a limited release of 1,892 pieces (in recognition of the year the company was founded), is an amply fitting tribute to the great pieces of the 1940's. Simply stunning to look at, The Khaki Navy Pioneer has a hand-wound pocketwatch movement (the revered slow-ticking Swiss Unitas 6498-2), a knurled-steel bezel, a velvet-finish silver dial with Arabic numerals and Hamilton's distinctive ocean blue hands.
The timepiece can be removed from its gimbaled rubber-tree wooden carrier, where it functions beautifully as a desk clock, for wear with accompanying fine-leather band as a wristwatch. And unlike the original 1940 chronometer which had to be kept dry, the Khaki Navy Pioneer has a water resistance rating of 100 meters.
If you are interested in taking a trip though what feels like our own little museum, with these epically timeless pieces displayed for all to see, we won't even charge you for a ticket. We are excited to have such notable, revered pieces in our collection, and look forward to sharing them with the watch aficionados who stop by.
Should you be interested in learning more about our selection of Hamilton watches or have any further questions about these pieces, don't hesitate to call or come by the store. We will be happy to help you in any way that we can.