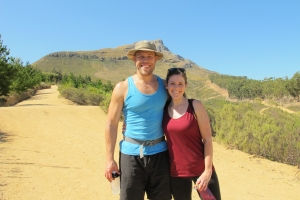 Continuing our "Where in the World Has Stones Jewelry Been?" series: articles that look at where Stones Jewelry travels when it leaves our Wheaton, IL store — This month we tell the tale of one of our own, Hillary Black, (complete with her brand new wedding rings), traveling all the way to South Africa!
Hillary and her husband Chaz learned about the needs of East Mountain, an organization in South Africa that trains people to be in the ministry, through Chaz's involvement coaching the Wheaton College Football Team. The Wheaton Football Missions Program was devoting six days to East Mountain, and the two just had to be involved.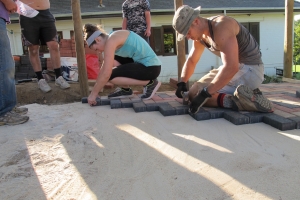 Upon arriving, and despite the heat, Hillary and Chaz began work on the first of two projects, helping to build a shelter for the facility's "braai", or traditional South African bbq pit. Initial days were spent digging holes, putting up posts, laying pavers and preparing the ground. A second project involved building a shelter for outside gathering for East Mountain residents and missionaries.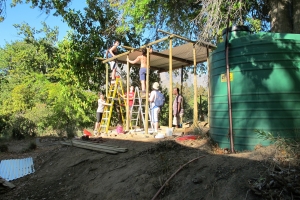 Hillary, Chaz and team spent their final two days in the local township of Khayelitsha, where they spent time with the school children and church congregations, prepped a playground for repairs, tiled the bathroom floor at the church, painted, repaired sidewalks and planted trees.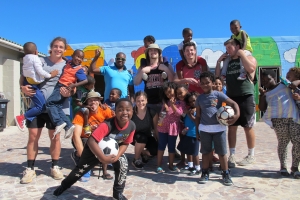 "The whole team learned a lot, and experienced more joy than we ever could have imagined," expressed Hillary. "Looking at the difference in their culture — the difference in the way we live — it really puts things in perspective. Here, time is money. We're in a rush to get back to big homes and take so much for granted. There, there's nothing more important and joyful than just spending time together. If you're caught up in what you're doing with your family or friends, and are late to the next gathering — it doesn't matter. What matters is being in the moment, and cherishing that time."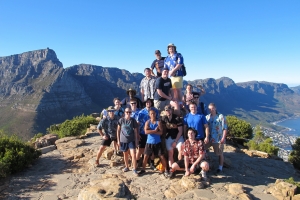 We at Stones Jewelry are so proud of Hillary and Chaz. What a great life experience and fantastic story they'll have to share the rest of their lives.
Do you have a story to share about where your Stones Jewelry has traveled? Be it a romantic, foreign proposal — a missions trip — a family vacation: whatever the reason, we'd love to feature you on our blog! Contact us on Facebook or on our website, and share where in the world your Stones Jewelry has gone — we look forward to hearing your stories!!